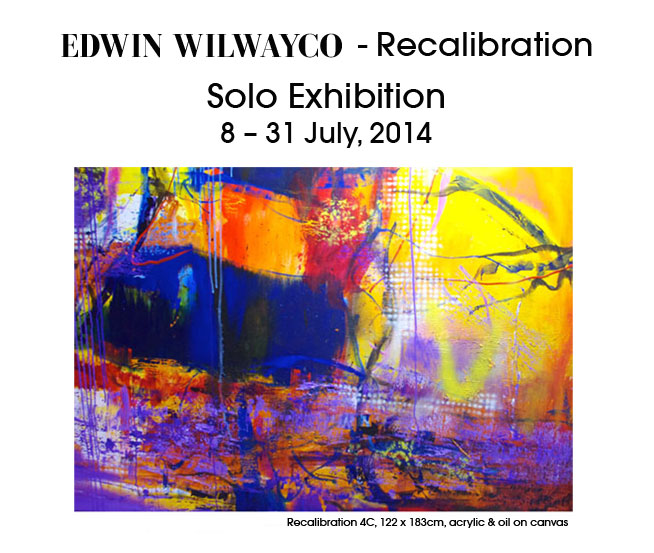 Momentous Arts presents Recalibration – a solo exhibition by acclaimed painter Edwin Wilwayco.
With more than three decades of sustained dedication to abstract painting, Wilwayco is regarded as one of Philippines important artist in the field of abstraction. He has been a major contributor to the development of abstract art in his country and is best known for his lush and lyrical paintings.
The series of works created over a period of nine months in his two studios in Rhode Island and Manila, incorporating improvisation in both techniques/processes that created new meanings and in dialogue with the mystifiying forces of nature. Wilwayco signature oeuvre is informed by deep spirituality, self-introspection and a reverence for the beauty and power of nature. The process of painting, an integral part of his artistic practice unfurls what the abstract master has come to be known for : lyrical & eloquent brushworks. The lush paintings of Wilwayco with their immediacy and accessibility in particular the artist's construction process- painterly marks, deep passages, over painting animated with playful elements of drips and dribbles with the occasional adding of sand and sack cloth; keeps the viewer fixated on a surface adventure and affirms the artist passionate devotion to Abstract Expressionism. Their emotive power articulated across many levels from the tranquil to the exuberant and vigorous; expressively nuanced by colours and gestures. It is this that lends Wilwayco flowing paintings their intense vibrancy and energy.

Selected Museums and Public Collection
Ateneo Art Gallery, Quezon City, Philippines
Central Bank of Philippines
University of the Philippines, Los Banos, Laguna
Singapore National Museum of Art
Philippine Trade Center, New York, USA
Fatima University Gallery, Antipolo City, Philippines
Art historian James T. Valliere interviews artist Edwin Wilwayco. Read here
James T. Valliere's interviews with Jackson Pollock's contemporaries, including Willem de Kooning and critic Clement Greenberg have appeared in many publications and are in the Archives of American Art at the Smithsonian Museum. Valliere's latest work is the Amazon e-book: Pollock: How Lee Krasner Built His Legacy