Beauty & Youth 2018: An Exhibit of Urban Art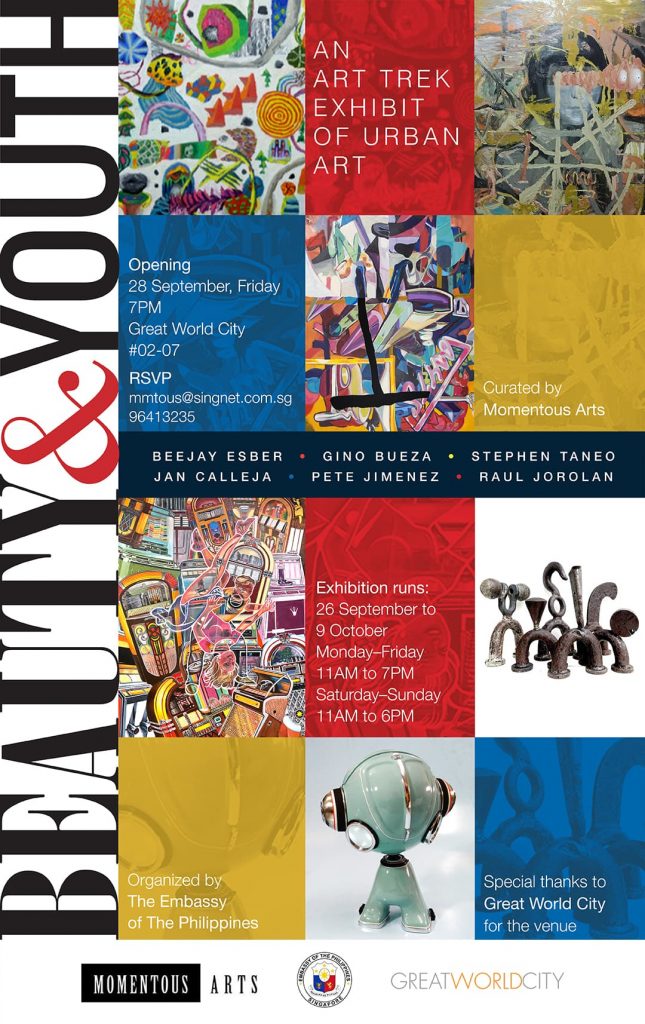 Art Trek, a month long visual arts event in Singapore celebrates its 12th edition this year. In partnership with the embassy of the Philippines, Momentous Arts presents Beauty & Youth, a group exhibition of 6 contemporary Filipino artists: Gino Bueza, Beejay Esber, Stephen Taneo, Jan Calleja, Pete Jimenez and Raul Jorolan.

Does Beauty & Youth have a correlation ? Many would say 'Yes" in the natural state of things. Ancient philosophers determined that a work of art could be studied & judged on the basis of its beauty, like the Greek marble sculptures, lifelike and beautiful and the hyper realistic paintings of Italian masters in Renaissance period. We can also say aesthetics are normally studied as specific to a period & place. In the modern era so much of what artist made had little to do with beauty in any conventional sense. Modernist were likely to find beauty in ideas as in form and often avoided conventions that appealed to the eye in order to address topics that are not very pretty.
All artists work in a world of values and conventions to which they respond. In the context of these contemporary artists, their works are a respond to the changing social conditions that shaped their thinking and processes. The notion of Beauty & Youth is imbued with personal experiences, yet subjugated and subverted with a youthful rebellion. They see beauty in personality and character presence, not in symmetry. Powered by raw energy in execution, they make works that display a youthful spirit and individualism. Their works sought to reflect the self and the changing times we live in. Uninhibited, it is a mixture of qualities, defiance and investigation into materials and processes that mark their work; revising, reiterating and pushing the boundaries of their artistic practice.
This exhibition is supported by the embassy of Philippines and Great World City. ◆